Identifying opportunities with referral partners
Referral Partners Overview
A referral partner is a prerequisite of the competition. Whether new or existing, the following referral partner relationships are recognised as part of the competition and eligible for prizes. Referrals outside of these relationships will not be recognised or eligible for prizes.
Loan Market broker → Ray White agent
Loan Market broker → Living Here property manager
Loan Market broker → Wealth Market financial adviser
Any number of brokers can work with Ray White offices subject to the approval of the principal.
Opportunities working with Ray White
Working with Ray White is one of the biggest referral opportunities in the finance industry. With this, the first in a series of training materials, you'll be well equipped to establish the foundations of a successful Ray White and Loan Market partnership.
If you're serious about working with Ray White, the following guide is a must read: Build your business with Ray White
The rest of this site contains other useful tips, training and other resources designed to help you build your referral partnerships - be sure to check it out.
The value a Loan Market broker provides to a Ray White Office
Growing Your Database Opportunities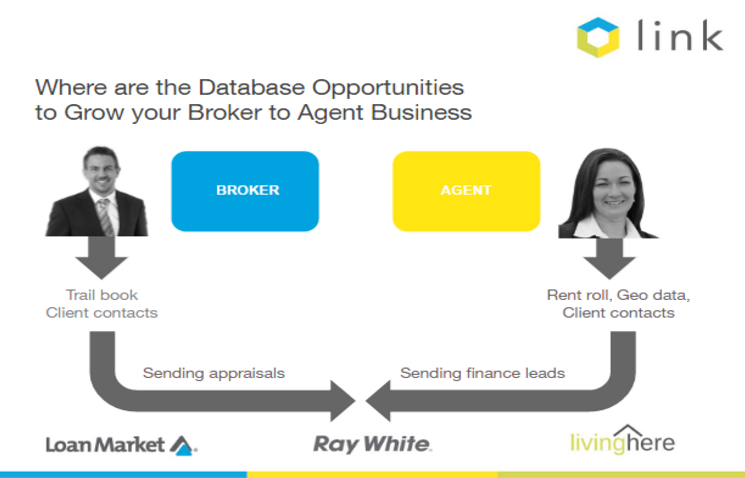 Opportunities working with Wealth Market
We're here to help brokers become a trusted adviser - and offer an integrated solution with their Wealth Team.
Working with Your Wealth Team allows you to:
Deliver something different to other brokers in the market
Enhance your value and service proposition
Diversify your revenue
Make your clients 'stickier'
Identify new client opportunities via Wealth Market referrals back to you
Marios Rokka - #bossbroker - how to introduce your Wealth Team to clients
Learn on Springboard here
Daniel Pym - Importance of reviewing protection for clients purchasing a property
Learn on Springboard here
Wealth Market - Personal Protection review for property buyers
View campaign page here
Meet some of your Wealth Team
See the team here